Welcome
About Me
Lessons
Testimonials
Notes and Bolts Duo
LPK
Lessons
Introduction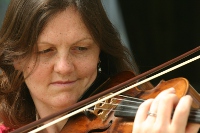 My lessons take place in my music room, which has lots of interesting musical instruments.

I encourage all my students to call me Sue - even small children. This gives a pleasant informal and friendly feel to the lessons.

I am prepared to teach any age, beginners and upwards, and am quite happy if an adult wishes to sit in the lesson.
I don't mind your children / siblings sitting and listening, but they must be able to sit quietly and behave.
I believe that music is to be enjoyed, therefore I will discourage attendance by students who are obviously not interested.
New Students
I will ask what you want from lessons, what your goal is - e.g. leisure playing only / exams / both.
If you are a beginner, either I will purchase a suitable book for you, and ask you to reimburse me on your first lesson, or I will advise you which book to purchase.
If you have played before, I will ask you to bring some music which you enjoy playing, so that I can assess you.

I will encourage open communication, so I am aware of any problems, or if you have changed your mind about your goal.

All Students
My goal is to have fun!
Practice is very important in order to make progress, but if you have just not been able to do so in any week, do not worry. We'll play something else!
If you are playing for leisure, I will encourage you to bring music you would like to learn.
Availability and Pricing
I teach only on weekdays, in the afternoons and early evenings.
I do not teach at the weekend, except to squeeze you in for a trial, if you can't make your regular lesson, or if you have an exam coming up!
My rates are:

£11.50 for 20 minutes, including trials
(recommended for children under 7 years, or older children with a very short attention span)

£16.50 for 30 minutes
(recommended for children aged 7 upwards, and beginner to intermediate

adults)

£22 for 40 minutes
(recommended for more experienced players, or if you're working towards an exam)

£31 for 60 minutes
(recommended for those who prefer longer lessons, or if an exam date is imminent!)



Payment
Online payment, due by the first scheduled lesson of each month

Cash on the day of your lesson if it's a trial, or during the school holidays

Cancellations
If I receive less than 24 hours' notice of cancellation of a lesson, or in the case of a no show, unfortunately the full lesson fee will be due.
Holidays
I usually teach during the holidays, so you will never have to miss lessons for 6 weeks over summer, unless you have a break.

I usually take my holidays during term time, although not always.